Ruthless Strawberry Ice 120ml
Ruthless Strawberry Ice 120ml Strawbrrry is the flavor of fresh, ripe strawberries, chilled to perfect temperature with menthol
brand RUTHLESS

Description
Ruthless Strawberry Ice 120ml
Flavor Profile: Strawberry and Menthol
VG/PG Ratio:  70 VG / 30 PG
Nicotine Levels: 3mg
Bottle Size: 120ml
Are you tired of warm, tasteless strawberries? Ruthless Strawbrrry Freeze is the answer. Strawberry freeze is the flavor of fresh, ripe strawberries, chilled to perfect temperature with menthol. It's the sensation of refreshing, chilled strawberries that in a 120ml bottle.
The Ruthless Freeze Editions are available in 120ml bottles.
All Ruthless Vapor e-juice is made in the USA.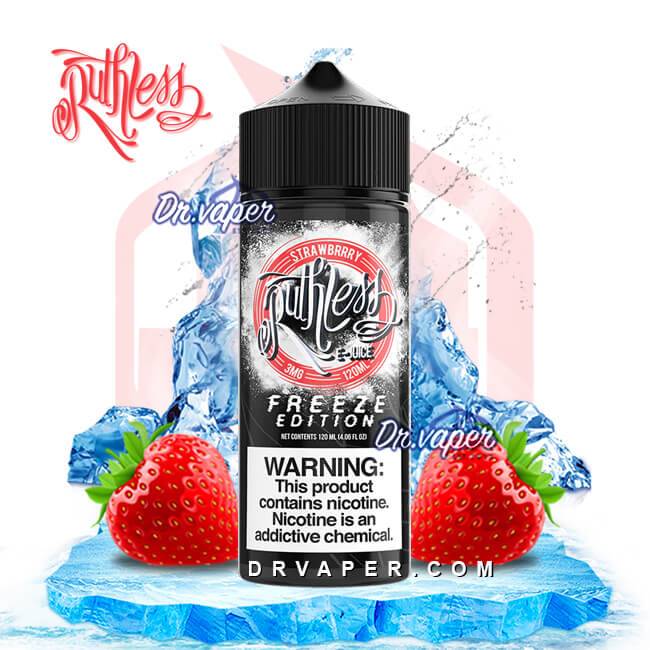 All Ruthless Vapor e-liquids are made in the U.S.A.
Bottle Sizes: 120ML
Notes : Use these flavors on pods, coils, for BOX MODs . It will not give you the best result if you use this flavor on pods, coils, to pull the POD MODs.
ــــــــــــــــــــــــــــــــــــــــــــــــــــــــــ
Also check out the flavors of FREEBASE if you have an electronic hookah device or coil that supports high voltages.
Browse more special DEVICES on our store.
Also check out the SALT NICOTINE flavors in case you have a cigarette dispenser.
Only logged in customers who have purchased this product may leave a review.