brand RUTHLESS

RUTHLESS ANTIDOTE ICE 120ML
RUTHLESS ANTIDOTE ICE 120ML beautifully marries mango and blue raspberry with a kick of menthol to cool you down right
Description
RUTHLESS ANTIDOTE ICE 120ML
 Antidote On Ice E-juice beautifully marries mango and blue raspberry with a kick of menthol to cool you down right. For the mango lovers out there, the juicy explosion of ripe mangoes makes for an incredibly smooth and sweet inhale. Antidote is the perfect remedy for the adventurous vapers looking for a new fruit flavor to add to their rotation.
As you exhale, the menthol hits nicely for a satisfying cooling sensation, and the blue raspberry gives off a tarty and electrifying finish. Fans of our Antidote freebase vape juice will find this menthol version interesting and unique compared to other e-liquids in the market.
Antidote On Ice vape juice is available in a 60ml and 120ml option. With nicotine level options in 3mg
The chubby gorilla unicorn vape bottle is convenient and great for traveling. Allowing for easy pouring of your vape juice with its narrow drip tip and spill-free design. Say goodbye to messy glass bottle droppers.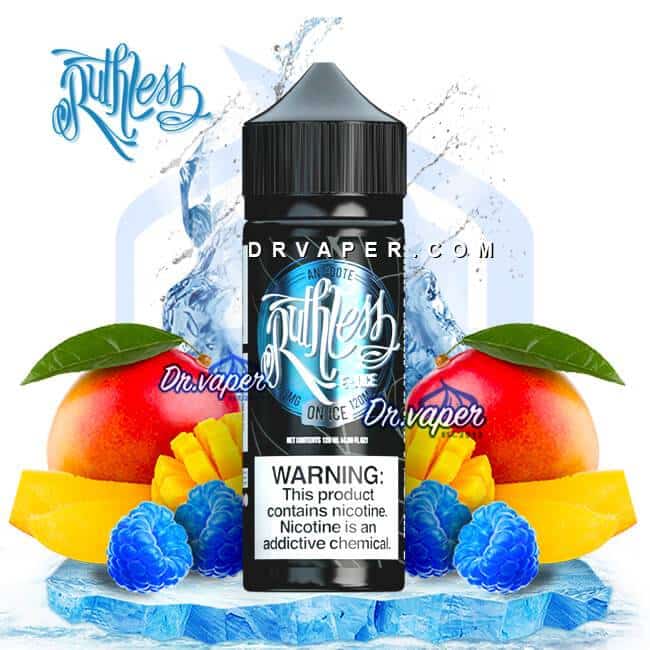 All Ruthless Vapor e-liquids are made in the U.S.A.
Flavor Profile: Mango, Blue Raspberry, and Menthol
VG/PG Ratio: 65VG/35PG
Nicotine Levels: 3MG
Bottle Sizes: 120ML
Notes : Use these flavors on pods, coils, for BOX MODs . It will not give you the best result if you use this flavor on pods, coils, to pull the POD MODs.
ــــــــــــــــــــــــــــــــــــــــــــــــــــــــــ
Also check out the flavors of FREEBASE if you have an electronic hookah device or coil that supports high voltages.
Browse more special DEVICES on our store.
Also check out the SALT NICOTINE flavors in case you have a cigarette dispenser.
ruthless grape drank ice eliquid hell x vape salt nicotine top vapes vape shops near me zero vape hell.x.vape smok vape vape shop vape meaning vape jeddah vape riyadh best vape mod vape ksa pod juul pods myle pods uwell dr vape vape Flavor drvaper
Only logged in customers who have purchased this product may leave a review.