نفذت الكمية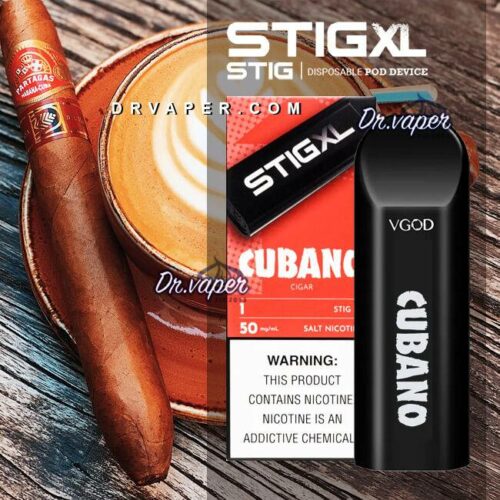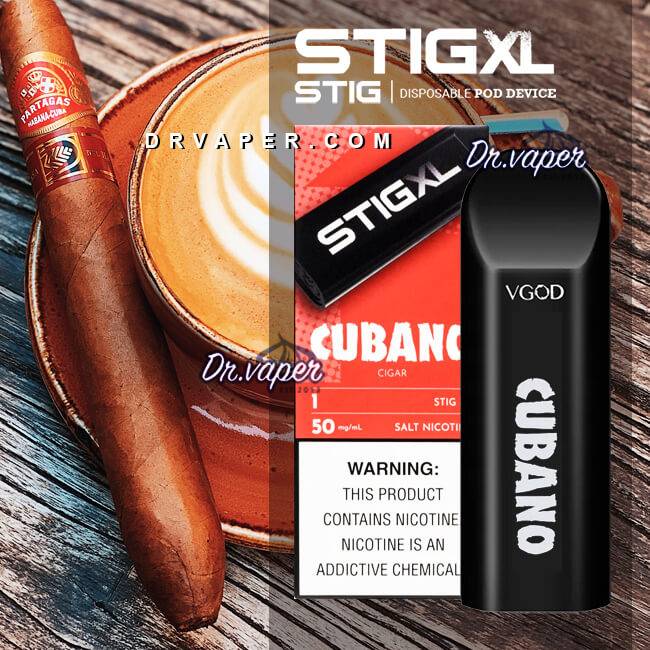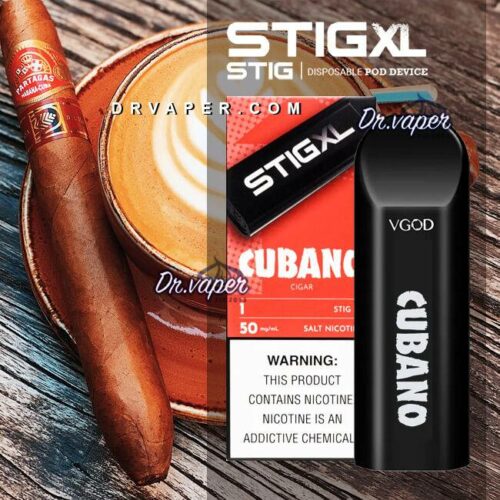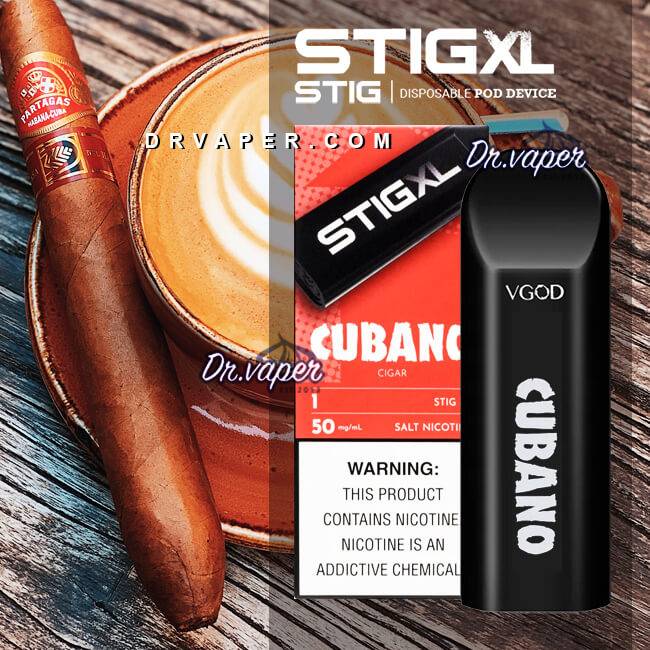 Description
STIG XL Cubano DISPOSABLE 700PUFFS
HINT OF FLAVOR: Instant draw, with the VGOD disposable vape bar prefilled with premium VGOD Salt Nicotine e-liquid flavours. Ergonomic, pocket-sized with each Stig Vape Bar expected to last up to 600 puffs.
VGOD's Cubano is a full flavour Cuban cigar topped off with a drizzle of soft creamy vanilla undertones. Richly robust Cubano tobacco with such a smooth finish, the Cubano is an instant classic that you will want on hand all throughout your day. now available in dr vape store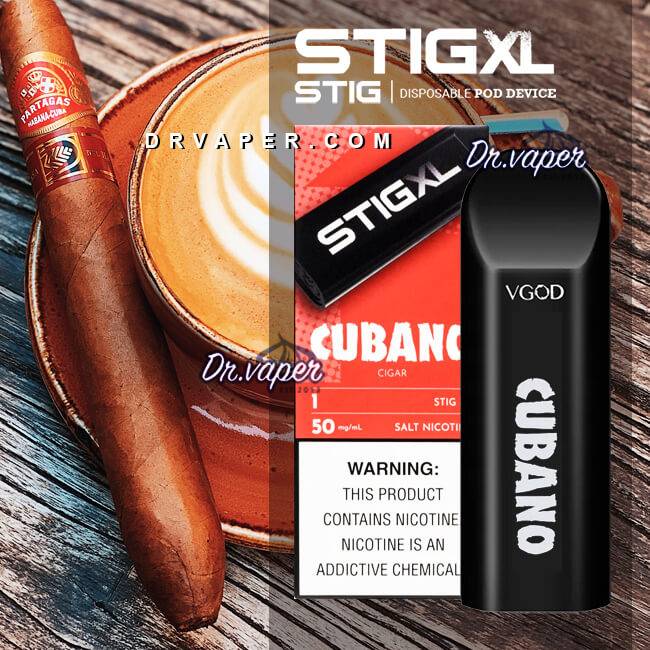 Information that interests you about the new STIG XL :
STIG XL cubano DISPOSABLE 700 PUFFS is an upgraded version of the revolutionary all-in-one VGOD STIG disposable pod device.
Pre-filled with salt nic e-juice, designed to replace traditional cigarettes. The STIG XL disposable device has greater capacity and service life, now available in dr vape store Saudi arabia, more flavor options, and maintains the same compact size and portability as the previous generation.
All of this is packed into a disposable vape. You will have more time to focus on doing what you love with the no-fuss, no-muss STIG XL.
The STIG XL is also small enough to fit in any size pocket, but it tastes great and provides a satisfactory amount of vapor that will help you switch the habit for good!
The STIG XL disposable is included a little pod containing 2.5ml e-liquid and a completely charged 500mAh battery that goes up to 700 puffs.
It can be utilized discreetly by all types of vapers. You don't have to worry about pressing any buttons, charging, or refilling.
The STIG XL is taking vaping salt-based nicotine to a whole new level. It is filled with SaltNic e-liquid, a highly concentrated salt-based nicotine that provides better nicotine blood absorption, therefore, delivering faster satisfaction for a longer period of time.
According to the color of the equipment, there are two types of nicotine content: 5% or 2% , and each nicotine content corresponds to several different flavors.
With STIG XL disposable pod device, your vaping experience will become simple and worry-free, because any adult who wants to quit smoking can use it completely.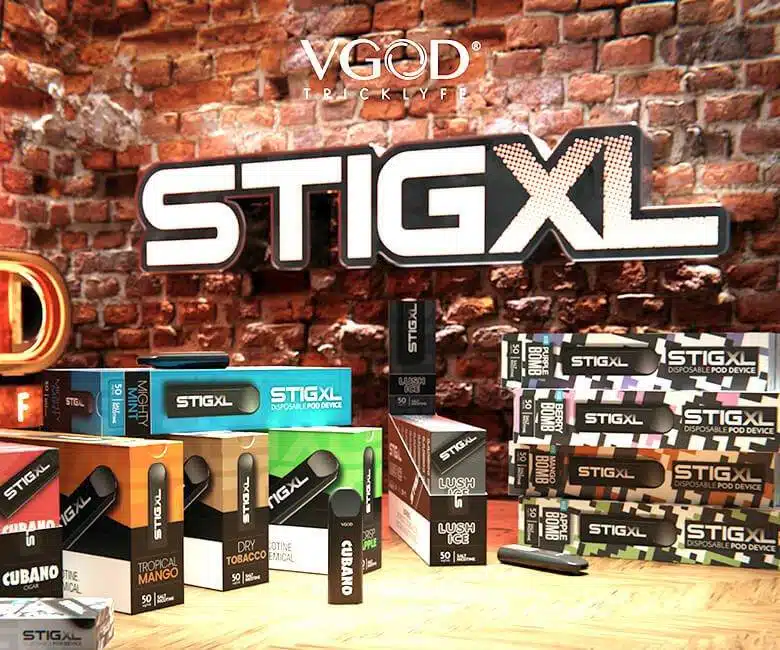 Specifications FOR STIG XL cubano DISPOSABLE 700 PUFFS :
Puff Count: 700 Puffs
Battery Capacity: 500mAh
E-juice Capacity: 2.5ml
Nicotine Salt Content: 5% / 2%
Quantity:1pc/pack
ـــــــــــــــــــــــــــــــــــــــــــــــــــــــــــــ
Notes : Use this product directly. Do not try to fill it again. When you finish the liquid built into the device, you must dispose of the device completely.
WATCH FOR MORE ALL DISPOSABLE POD SYSTEM VAPE
Browse more E-LIQUIDS on our online store.
Also check out the SALT NICOTINE flavors if you have a cigarette dispenser.
Only logged in customers who have purchased this product may leave a review.