Vapeants E8 Pods Replacement 1.5ohm
The Vapeants E8 Pods Replacement are flavor-enhanced cartridges with a gold-plated connection, carrying up to 1.2mL and 1.5ohm
In stock
Description
The Vapeants E8 Pods Replacement are flavor-enhanced cartridges with a gold-plated connection, carrying up to 1.2mL of eJuice within the pod. Side filled, the Vapeants E8 Replacement Pods feature a 1.5 or 1.8ohm coil within to vaporize the eJuice. Comes in a pack of three (3).
Vapeants E8 Pods Replacement Features:

1.2mL Capacity Pod

1.8ohm – Black Silicone Stopper

1.5ohm – Red Silicone Stopper

Side Fill System

Gold-Plated Connection

Food-Grade Pod Construction

Comes in a pack of three (3)
Make sure to properly prime each coils and pods before use.
The E8 replaceable pod is compatible with vapeants kit. This E8 pod has 1.2ML liquid capacity, integrated 1.5 coil to vaporize the juice. Come in a pack of 3.
SPECIFICATIONS
Pod capacity                1.2ML
Resistance                    1.5OHM
Compatible with           E8 Kit
PACKAGE CONTENTS
3 x pod for E8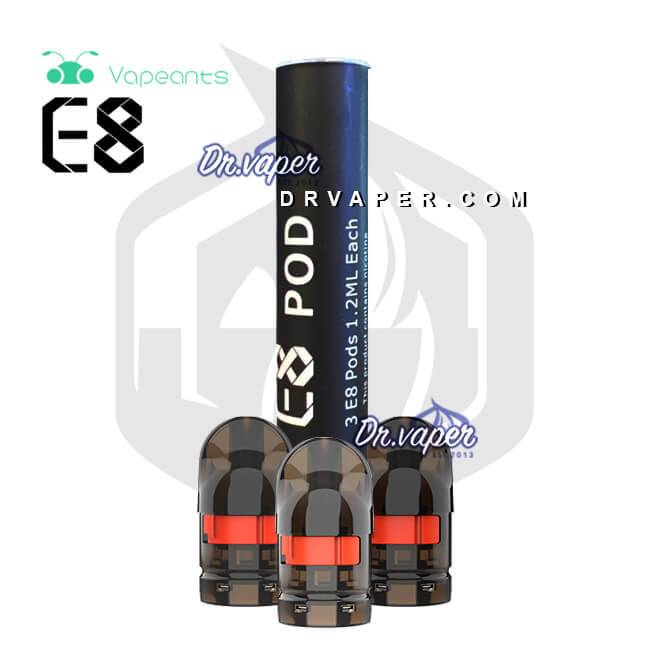 ــــــــــــــــــــــــــــــــــــــــــــــــــــــــــــ
Shop the largest collection of replacement pods on Dr Vape store
Browse more special DEVICES on our store.
Also check out the SALT NICOTINE flavors in case you have a cigarette dispenser.
Also check out the flavors of FREEBASE if you have an electronic hookah device or coil that supports high voltages.
Only logged in customers who have purchased this product may leave a review.