UWELL CALIBURN KOKO PRIME VISION 18W POD SYSTEM
Try out the UWELL CALIBURN KOKO PRIME VISION 18W offering a 690mAh battery 18W max output dual airflow system
brand Uwell vape

Description
UWELL CALIBURN KOKO PRIME VISION 18W POD SYSTEM
DESCRIPTION :
Try out the UWELL CALIBURN KOKO PRIME VISION 18W POD SYSTEM, offering a 690mAh battery, 18W max output, dual airflow system, and is released in new mystery boxes. Utilizing the KOKO Prime Vision, this Mystery Kit still maintains the 690mAh battery, 18W max output, and utilization of the Caliburn G Pods to deliver outstanding flavor and vapor from your favorite eJuice or nicotine salts. Calling upon the Uwell G Coil Series, the 0.8ohm and 1.0ohm coil allow for a restricted direct lung vaping style to make vaping a breeze.
UWELL CALIBURN KOKO PRIME VISION 18W POD SYSTEM Features
Dimensions: 68mm by 45.6mm by 16mm
Battery: 690mAh
Max. Wattage: 18W
Chassis Material: Zinc-Alloy
LED Indicator Light
Magnetic Pod Connection
2 Airflow Systems
Draw-Activated Firing Mechanism
Lanyard Attachment Point
Pod Capacity: 2mL
Top Fill System – Silicone Check Valve
Uwell Caliburn G Coil Series
0.8ohm UN2 Meshed-H Coil
1.0ohm FeCrAl Coil
Press-Fit Coil Installation
Pro-FOCS Flavor Testing Technology
Open-Circuit Indication
Short-Circuit Protection
Low Power Indication
Over-Time Indication
USB Type-C Cable
Available in RANDOM COLORWAY
Includes:
1 Uwell Caliburn KOKO Prime Vision Kit
1 1.0ohm Caliburn G Coil
1 0.8ohm Caliburn G Coil
1 MicroUSB Cable
1 User Manual
1 Warranty Card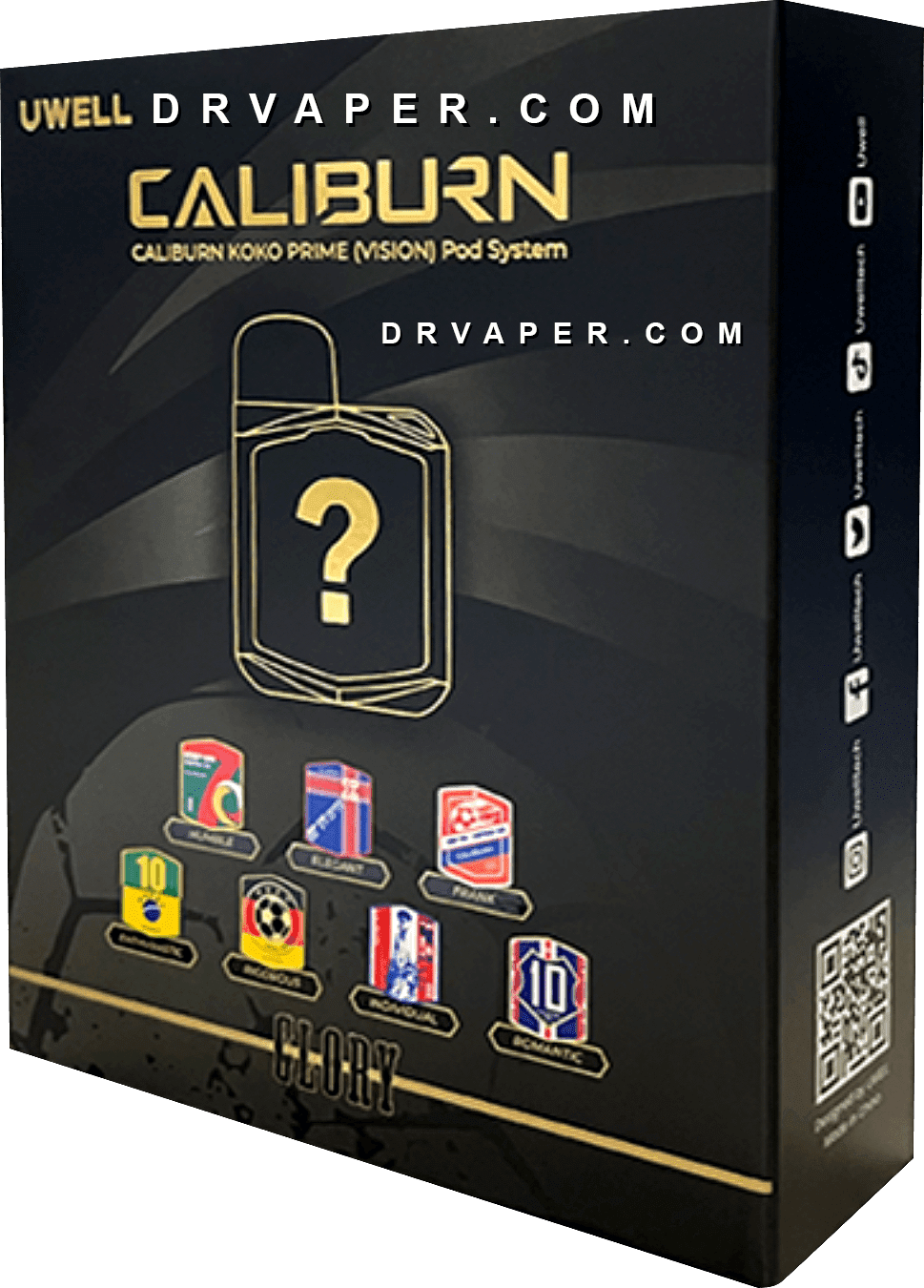 ــــــــــــــــــــــــــــــــــــــــــــــــــــــــــ
Browse more special DEVICES on our store.
Also check out the SALT NICOTINE flavors in case you have a cigarette dispenser.
Also check out the flavors of FREEBASE if you have an electronic hookah device or coil that supports high voltages.
Only logged in customers who have purchased this product may leave a review.