نفذت الكمية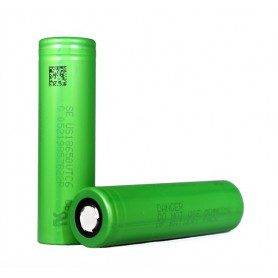 SONY – VTC 5 18650 BATTERY 3000mAh
ر.س50.00
SONY – VTC 5 18650 BATTERY 3000mAh
Out of stock
Description
Battery specifications
The Sony VTC5 is perhaps the most notorious lithium-ion 18650 battery of all time – but wrongly so. Many vendors claimed it to be a 'step up' from the VTC4 but naming conventions are not that simple. Actually the VTC5 was a step down for many modders because its max. cont. discharge rating is actually 10 amps lower. There is a lot of controversy surrounding this, as many trusted vendors falsely claim higher specs. This is all due to bad Chinese suppliers that exaggerate specs, and vendors that fail to enact due diligence and test their batteries thoroughly.
Battery specifications:
Model: US18650VTC5
Manufacturer: Sony
Country of Origin: Japan
Chemistry: NMC
Max. continuous discharge current: 20A
Nominal capacity: 2500 mAh
Nominal voltage: 3.6 V
Discharge end voltage: 2.5 V
Charging voltage: 4.20 +/- 0.05 V
Standard charging current: 1.25 A
Length: 65.20 mm
Diameter: 18.35 mm
Weight: 44.30 g
Only logged in customers who have purchased this product may leave a review.