نفذت الكمية

ELF BAR BC5000 DISPOSABLE 5000Puffs
ELF BAR BC5000 EBDESIGN DISPOSABLE 5000Puffs the beauty of flavors and tastes will dazzle, cool, iced summer tropical fruits
brand Elf Bar
Description
ELF BAR BC5000 EBDESIGN DISPOSABLE 5000Puffs
A new Disposable pods for the year 2023 on DrVape Saudi Arabia Elf Bar Disposables, a modern design, the beauty of flavors and tastes will dazzle, cool, iced summer tropical fruits,
it is the true meaning of enjoying on a hot summer day and the cold comes suddenly from inside an electronic withdrawal with an explosion of fruit flavor that will dazzle your tongue in every withdrawal
Shop the EBDESIGN BC5000, featuring a 650mAh rechargeable battery, 13mL of pre-filled 50mg e-liquid, and longevity up to 5000 puffs. With the Elf Bar's extensive catalog of flavor options, there is plenty of flexibility when it comes to varying user taste preferences.
Elf Bar Disposable BC5000 Features:
• Max Puffs: 5000
• Nicotine Strength: 50mg (5%)
• Prefilled Capacity: 13mL
• Battery Capacity: 650mAh
• Heating Element: Dual-Mesh Coils
• Charging Port: USB Type-C
• Operation: Draw Activation
Includes:
• 1 EBDESIGN BC5000 Disposable
No spitting or leaking design
High quality mesh coil
Rechargeable battery with Type-C charging port
Number of withdrawals: 6000 Puffs per device
Nicotine percentage: 5% – 50 mg or 2% – 20 mg (nicotine salt)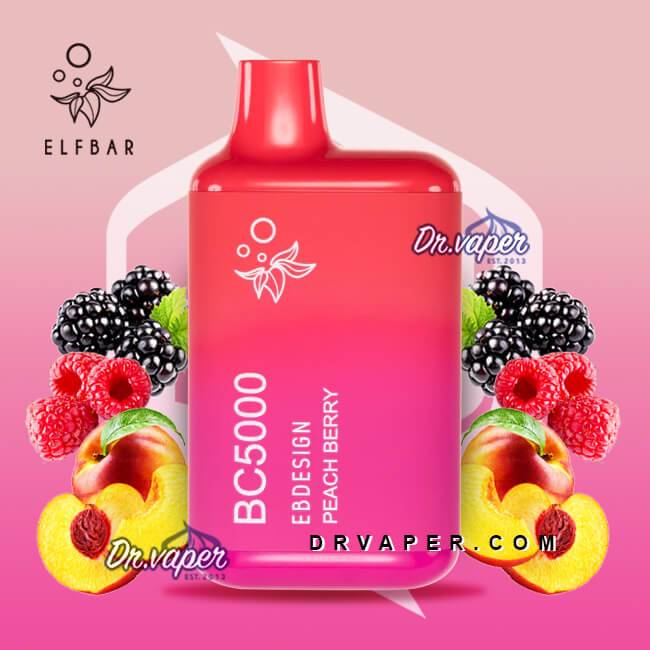 Available flavours:
Watermelon Ice

Triple Berry Ice

Strawberry Mango

Strawberry kiwi

Sour Apple

Red Mojito

Rainbow Candy

Peach Mango Watermelon

Peach Berry

Mango Peach

Kiwi Passionfruit Guava

Grape

Cranberry Grape

Blue Razz Ice

Blue Rainbow Cloudz
ـــــــــــــــــــــــــــــــــــــــــــــــــــ
Notes : Use this product directly. Do not try to fill it again. When you finish the liquid built into the device, you must dispose of the device completely.
WATCH FOR MORE ALL DISPOSABLE POD SYSTEM VAPE
Browse more E-LIQUIDS on our online store.
Also check out the SALT NICOTINE flavors if you have a E-cigarette POD SYSTEM.
Additional information
| | |
| --- | --- |
| Nicotine Level | |
| Flavor | Blueberry Ice, Cranberry Grape, Grape, Mango Peach, Mango Watermelon, Passionfruit Guava, Peach Berry, Rainbow Candy, Rainbow Cloudz, Red Mojito, Sour Apple, Strawberry Kiwi, Strawberry Mango, Triple Berry Ice, Watermelon Ice |
Only logged in customers who have purchased this product may leave a review.