brand OXVA
OXVA XLIM 25W POD SYSTEM
SHOP OXVA XLIM 25W POD SYSTEM featuring an internal 900mAh battery 5-25W output range and is equipped with revamped 2mL pods
Description
OXVA XLIM 25W POD SYSTEM
SHOP OXVA XLIM 25W POD SYSTEM NOW, featuring an internal 900mAh battery, 5-25W output range, and is equipped with revamped 2mL pods.
Constructed from durable lightweight aluminum-alloy, the chassis of the XLIM V2 delivers a highly portable pod system, fitting neatly into the bookbag,
purse, or pocket. Maintaining the slim pen-style vape form-factor, the XLIM V2 Pod System packs plenty of power and functionality into a diminutive package.
Furthermore, the OXVA XLIM V2 Kit is equipped with 2mL refillable pods with integrated coils.
XLIM V2 25W Pod System Features
Dimensions: 111mm by 24mm by 14mm
Battery: Internal 900mAh
Wattage Output Range: 5-25W
Resistance Range: 0.6-1.2ohm
Aluminum-Alloy Chassis Construction
Dual Firing Mechanism – Button and Draw
Intuitive Firing Button
0.42″ TFT Display Screen
Side Airflow Switch
OXVA XLIM V2 Pods
Capacity: 2mL
Fill: Side Fill – Silicone Stoppered
Integrated OXVA Coil
0.8ohm XLIM V2 Pods
1.2ohm XLIM V2 Pods
Magnetic Pod Connection
Charging: Type-C
Includes:
1 XLIM Device
1 0.6ohm XLIM Pod
1 0.8ohm XLIM Pod
1 Type-C Cable
1 User Manual
SEE THE BOX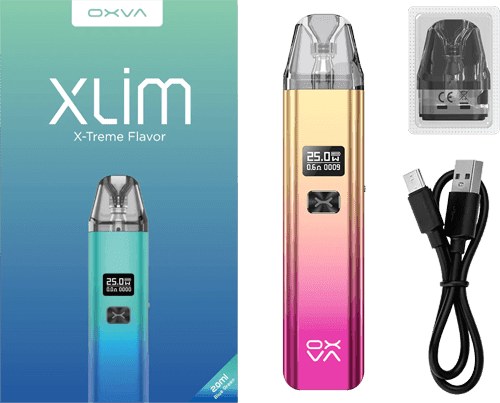 ــــــــــــــــــــــــــــــــــــــــــــــــــــــــــ
Browse more special DEVICES on our store.
Also check out the SALT NICOTINE flavors in case you have a cigarette dispenser.
Also check out the flavors of FREEBASE if you have an electronic hookah device or coil that supports high voltages.
Only logged in customers who have purchased this product may leave a review.