نفذت الكمية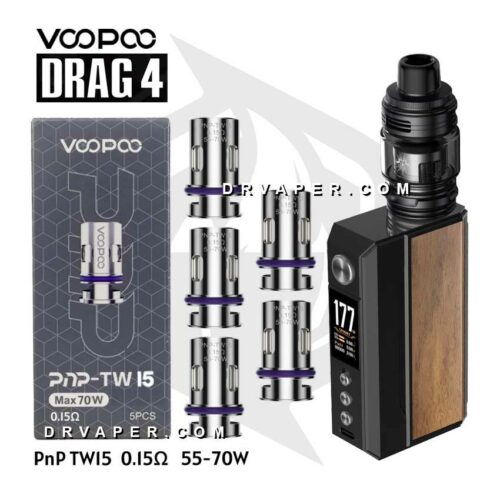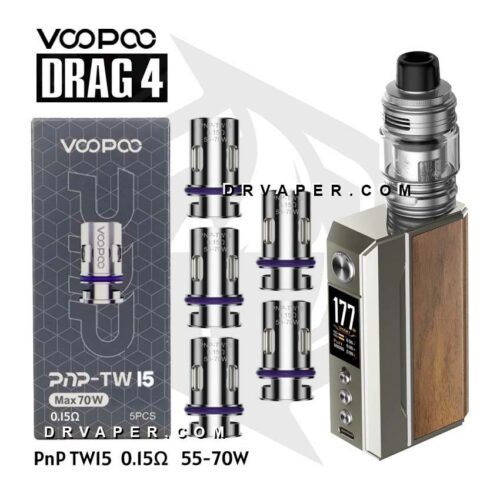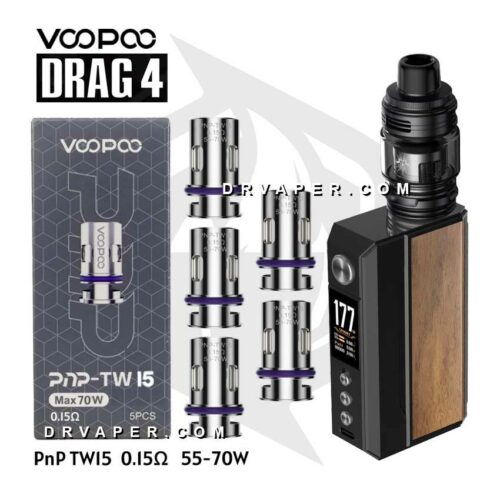 VOOPOO DRAG 4 KIT WITH EXTRA 5 COILS 0.15 OHM
VOOPOO DRAG 4 released 2022 is the fourth-generation MOD of the DRAG series Continuing the refined design of DRAG series
brand Voopoo vape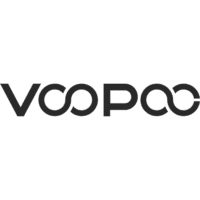 VOOPOO DRAG 4 KIT WITH EXTRA 5 COILS 0.15 OHM
DESCRIPTION
VOOPOO DRAG 4, released by VOOPOO in 2022, is the fourth-generation MOD of the DRAG series. Continuing the refined design of DRAG series mods, VOOPOO DRAG 4 inherits classic natural resin and includes new timeless wood grain elements, each DRAG 4 is unique in appearance. Equipped with an ingenious leak-proof top airflow UFORCE-L Tank, VOOPOO DRAG 4 delivers the ultimate vaping enjoyment while being efficient leakage-proof.
Over All legends, VOOPOO DRAG 4 is a classic and star mod with a professional and long-lasting performance that delivers the top vaping experience.
Multiple Atomization Innovations Realize High-Quality Vaping
UFORCE – L TANK: UFORCE – L ATOMIZER is the VOOPOO FIRST PnP atomizer with three top air inlets. It balances the airflow directions and increases the airflow passthrough, making the airflow smoother and bringing users a rich and delicate taste. The top air inlets also ensure the pressure inside and outside the tank balanced so that the poorly atomized e-liquid and condensate could be firmly stored even when the device shakes heavily.
Dual in One PnP Coil: As the heating wares are increased from two to three, the coil could effectively accelerate the heating speed and gather more heat in unit time, which greatly improves atomization efficiency. With this innovation, the coil could perfectly and fully atomize every e-liquid and perfectly delivers a rich flavor and delicate taste. Thus, the coil could save e-liquid consumption and reduce 10% power output. While, if the user chooses to vape with high wattage setting, he/she could get 20% more puffs.
Continue Classic DRAG Appearance and Define the Extraordinarily Drafted Design
Continuing and developing the classic DRAG MOD appearance, VOOPOO DRAG 4 is designed with zinc alloy, leather, solid wood elements, and natural resin. Each DRAG 4 is unique in appearance, demonstrating the uniqueness and noble temperament of each DRAG user. The upgraded leather makes the body more comfortable to grip and the holeless design enhances durability as it prevents the inside from dust. The C-shaped magnetic battery cover is easy to attach and remove and it could be closely connected with the mod even if the device is accidentally dropped, durable and fall-resistant.
Industry's Highest Standard Charging and ECO Mode Support Long and Stable Vaping
With the industry's highest standard 5V/3A charging, VOOPOO DRAG 4 takes the waiting out of wanting and greatly lengthens vaping enjoyment. Under the ingenious energy-saving ECO mode, the battery life could also be increased by at least 10%, which greatly prolongs service time.
Upgraded Interaction Designs Make VOOPOO DRAG 4 More User-Friendly
The multi-function switch is available for users to define QS lock to lock wattage, to lock device, or to lock power at their will. Besides, the upgraded UI interface that separates the function keys enables users to avoid unintended ignition caused by mistaken touch, reassuring and energy-saving.
 Customized Temperature Control (TC) Mode Precisely Meets Individual Need 
The new TC mode accurately identifies the four commonly used heating wire materials, Ni200, Tl, SS316, and SS43, and then adjusts their temperature to the most recommended range, precisely meeting the specific need of DIY vapers.
Specification:
Size: 52.4*25.4*89mm
Material: Leather + Zinc Alloy + Resin/Leather + Zinc Alloy + Walnut
Battery: Double 18650 Batteries (Not included)
Output Power: 5-177W
Output Voltage: 3.2-8.4V
Resistance range: 0.5-3.0Ω
Charging voltage: 5V/3A
Package list:
1x VOOPOO DRAG 4 device
1x UFORCE-L TANK(4ml)
1x PnP-TW20(0.2Ω)
1x PnP-TW15(0.15Ω)
1x Glass Container(5.5ml)
1x Silicon Rubber Pack
1x Type-C Cable
1x User Manual
Compared with DRAG 3, what are the improvements of DRAG 4?
for the Mod: 
Appearance: VOOPOO DRAG 4 innovatively incorporates solid wood elements that highlight the sense of quality. The new C-shaped magnetic battery cover is easy to attach and remove while making the mod more robust. Besides, the integrated and holeless design effectively avoids dust and mud from falling in.
Service Time: With the industry's highest standard 5V/3A fast charging, DRAG 4 takes the waiting out of wanting. The ECO mode increases the service life at least by 10%, meeting users' nicotine needs under low-battery status. The power consumption of the whole device is reduced and then the service time is prolonged.
Interaction Design: With the newly added multi-function switch, the QS lock could be defined to lock wattage, lock device, or to power at users' will. In addition, the improved UI interface design that clearly separates the function keys could reduce users' unintended ignition by mistaken touch.
Mode: Under the TC mode, the chip automatically identifies the commonly used heating material and adjusts its temperature, meeting the specific need of users.
for the Tank:
DRAG 4 adopted VOOPOO ingenious UFORCE-L Tank that is advanced in the air inlet, air adjustment, and coil structure.
We highly recommend using an external battery charger for 18650 battery mods, as it helps with balanced charging and prolongs the life of the battery and mod, such as from worn out microUSB port. Never use damaged or improperly wrapped batteries with this device. We recommend all 18650/20700/21700 battery mods to use matching batteries with similar brand, model, and battery state at all times.
ــــــــــــــــــــــــــــــــــــــــــــــــــــــــــ
Browse more special DEVICES on our store.
Also check out the SALT NICOTINE flavors in case you have a cigarette dispenser.
Also check out the flavors of FREEBASE if you have an electronic hookah device or coil that supports high voltages.
Only logged in customers who have purchased this product may leave a review.
You may also like…
نفذت الكمية