UWELL CALIBURN X POD SYSTEM 20W
uwell CALIBURN X pod SYSTEM is an upmarket new product of the CALIBURN output power and airflow adjustment functions two drawing ways
brand Uwell vape

Description
UWELL CALIBURN X POD SYSTEM 20W
UWELL CALIBURN X POD SYSTEM 20W is an upmarket new product of the CALIBURN series. Featured with output power and airflow adjustment functions, two drawing ways, and an OLED screen,
CALIBURN X is a multifunctional pod system with a compact body. UWELL's Pro-FOCS flavor adjustment technology brings a unique advantage to CALIBURN X POD SYSTEM 20W, giving you an authentic flavor. Choose the CALIBURN X if you take practicality and aesthetics into your consideration.
LINKS :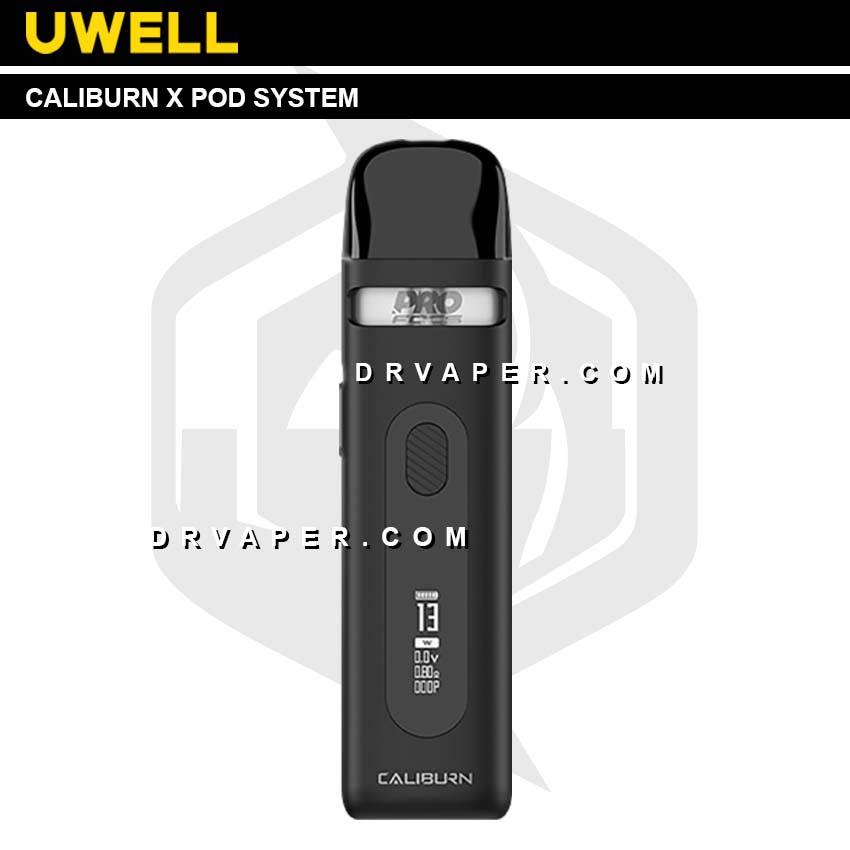 MULTI-CONTROL BUTTON
One button controls multiple functions.




LARGE CAPACITY, LONG ENDURANCE
With a large 850 mAh battery and a 3 ml e-liquid capacity, CALIBURN X will provide you with more than one day's vaping time. Vapers do not need to worry about frequent charging and refilling.
LARGE SCREEN ON COMPACT BODY
The OLED screen on the device displays battery life, output power, voltage, coil resistance, and puffs. The visualization of data and operation is practical and user-friendly.
INTELLIGENT FIRING CHANNEL DETECTION
Draw or press the fire button to vape. The button firing can start and stop the vaping process immediately and precisely.
CONVENIENT AIRFLOW ADJUSTMENT
The device's outer case airflow adjustment valve is convenient for vapers to control airflow. There is no need to remove the pod to operate.
COMPATIBLE WITH G SERIES COILS
The device is compatible with CALIBURN G series coils.
Multiple coils combine well with the adjustable strong power, providing rich vaping experiences.
STAMPING FORMING OF ALUMINUM ALLOY
Stamping forming of the aluminum alloy makes the device durable and smooth, giving you a comfortable grip.
TYPE-C CHARGING CABLE
The pack includes a Type-C charging cable. It adopts 5V/2A fast charging which is convenient and time-saving.
SPECIFICATIONS
E-liquid Capacity: 3 ml
Net Weight: 46 g
Output Power: 5 W – 20 W
Colors: 6 Colors
Battery Capacity: 850 mAh
Materials: PCTG, AL 6063
Dimensions: 107.4 mm x 27.5 mm x 15.6 mm
Coil Specifications:
· FeCrAl UN2 Meshed-H 0.8 Ω CALIBURN G Coil (Pre-installed)
· FeCrAl UN2 Meshed-H 1.2 Ω CALIBURN G2 Coil (Spare)
· FeCrAl 1.0 Ω CALIBURN G Coil (Sold Separately)
ــــــــــــــــــــــــــــــــــــــــــــــــــــــــــ
Browse more special DEVICES on our store.
Also check out the SALT NICOTINE flavors in case you have a cigarette dispenser.
Also check out the flavors of FREEBASE if you have an electronic hookah device or coil that supports high voltages.
Only logged in customers who have purchased this product may leave a review.